Forthcoming Events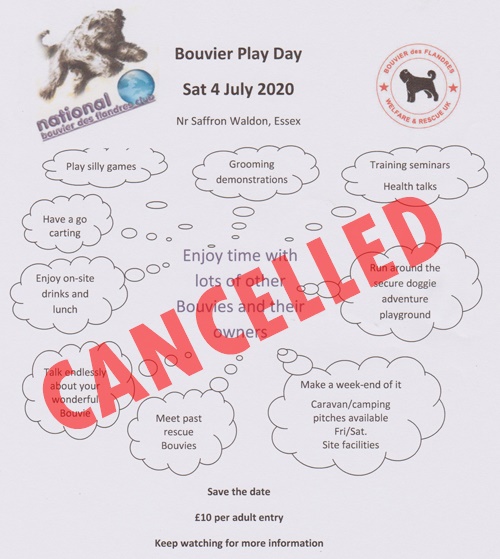 Newletters
Previous Club Newsletters

Xmas 2016 - Click to Download
Winter 2015 Newsletter - Click to Download
Summer 2015 - Click to Download
Christmas 2014 - Click to Download
April 2014 - Click to Download
February 2014 - Click to Download
September 2013 Drop-In - Click to Download
September 2013 - Click to Download
Previous Events
August 2016 Bank Holiday Drop-In Day
The August Bank Holiday weekend was the new date for the National Bouvier Des Flandres Club of GB's Drop-In Day. The whole month of August had been glorious down here in the South East but when the day of the event drew nearer it was obvious it was going to rain! The venue was my place near Windsor, Berkshire.
Undeterred and with a bit of smugness due to the purchase of a few large marquees/party tents we just kept smiling through the morning showers and by lunchtime the sun was shining on us!
Helpers started arriving on Friday afternoon and were soon put to work getting the infrastructure in place (road signs etc) and were rewarded with "Tom's Kitchen" dinner party in the evening.
Saturday the hard work started and the prepping of food for the event began in earnest. 120 rounds of different filling sandwiches were made (thanks Helen and Marj for your assistance) and almost 300 strawberries dunked in melted chocolate (Marj has gone off chocolate and strawberries for a while now!). The groaning raffle table was set up and all the tables and chairs sourced from dark corners of the garaging and raids on neighbour's terraces whilst they were out ensued and were bedecked with cloths and fresh flower arrangements. The Rabbit Run was finally sorted into a proper championship course after many years of evolution!
It is extremely difficult to guess numbers for events such as these as many people intimate they are coming but it can depend on last minute changes of plan. We catered for in excess of 50 people and this number requires loads of seating, and catering resources.
Saturday night saw 17 of us (pre-event groupies) sitting under the Orangeries, feasting on Tom's BBQ and famous lemon meringue pies! Plans for the next morning were hatched and it was an early to bed for Marj and I as we had to prep the Great Duck Hunt early hours of Sunday morning which required a 2 mile hike over footpaths as soon as it was daylight, to hide the ducklings!
Sunday dawned and we were ready. Margaret Murray had made the trip, not only providing 3 glorious gateaux for the lunch plates but bringing her particularly great style to the Welcome Table. And welcome she did. We guesstimate we had 70 people here and at least 60 dogs, mostly bouvs but a few cousins as well.
This year we were delighted Carol Spalding Reagan and her lovely Bouvier embroidery items were showcased and many went home with Bouvier embroidered items as well as ordering her Christmas collection .(check out our web site for ordering details) Another big seller was the fabulous Bone and Paw Print Liver Cake made by one of my Dog Sitter's clients for us. That proved a great draw and the auction for that added again to the rescue pot. Geoff Evans had as usual set up our club's memorabilia stall which sold really well.
We were delighted to welcome Tony Crowther too who turned up with a bumper prize box donation and spent a few hours with us enjoying the ambience.
Janet Garrett, John and Sarah from Janet's Puppy Skool were here with all their equipment in their horse box to demonstrate and coach Bouvs to new levels of obedience and fun ( a supreme effort and many, many thanks), Sammy and Phil entertained over lunch with their Dirty Beard's renditions, Geoff Evans, Malcolm and I ran the games and Helen Dallow was in charge of the grooming over in the grooming parlour, with any problems visitor's had grooming their Bouvs.
The Great Duck Hunt was a huge success pairing off different parties to search together and most of the ducklings were found. A few folks fell "fowl" of the decoy, the Rooster, Rocky who was sleeping alongside some of the ducklings. Margo-Campbell Wilson's operatic voice finished off the lunch time
session with a wonderful rendition of "Summer Time" which my neighbours later remarked on, saying they came out into their gardens just to listen.
We had quite a few/loads of re-homed Bouvs and Andy Collins and his family attended giving his support to the typical English Afternoon Tea which was totally donated and prepared by us and all proceeds are to be evenly split between the National Rescue Fund and the Welfare and Rescue Group run by Andy and Associates. Talking cakes and other donations, gosh we were delighted with all the donations – thank you.
The last session of the day was the Pet Show and Michael Craig who handles my Hector had come along not only to lend a hand but to judge the show. We were delighted so many folks entered for the show and great laughter ensued during the Best Six Legs! It was a close contest with many a "Silly Walk" attempted! Best in Show was the lovely Laz who not only won Best Re-Homed dog but Best in Show. Michelle wow !!!
A super day/weekend was had by all and as the evening was still young, yet another BBQ for all the hard working committee and those who had chosen to overnight kicked off and the consensus of opinion then and now having looked at the revenue from the day says, a GREAT SUCCESS – THE BEST YET - Bring on Next Year!
May Bank Holiday Rally Weekend 30th April / 1st May 2016
Red House Farm, Coedway, Shropshire, SY5 9AW
On the Saturday a fun filled day with games for you and your dogs, trieball agility, grooming hints and advice and our famous 'rabbit run' a definite favourite of the dogs
Early evening we will have a BBQ and for those camping a relaxed evening with music, quiz and great company...and a few drinks just to keep warm!!
On the Sunday we will have a Bouvier walk and perhaps lunch at the local pub which is highly recommended.

Southern Bouvier Walk
Date: Sunday 20th March 2016
Venue: Ashton Court Estate, Long Ashton, Bristol, BS419JN
Click HERE for a superb selection of photos from our wonderful Walk

National Bouvier Club AGM and Limit Show
Date: Sunday 10th April 2016
Venue: Corley Village Hall, Church Lane, Corley, Nr Coventry, CV7 8AZ
Please come along and join us even if you have never showed before or just come along and meet us for a nice friendly day
A lovely walk in the beautiful hills in Lancashire with an enticing dog friendly pub at the end for a spot of lunch and chat, Spring/Summer.
May Bank Holiday (1st one I believe) sees us back at David & Di's farm in the glorious Shropshire countryside & a joint venture with the Welfare & Rescue group to be held in Scotland or just back over the English border.

The Southern event will be in June or September near Windsor at my place. Date depends on the dryness or otherwise of the Spring as my parking paddock gets very wet.
A few snap shots for you to enjoy
Geoff Evans singing at the Bouvier Rally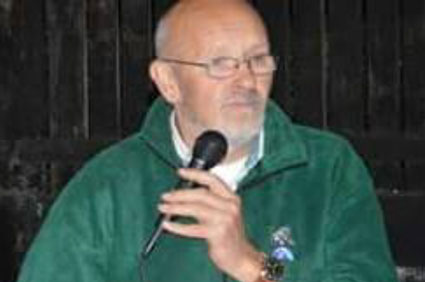 Steve Dallow having fun at the Rally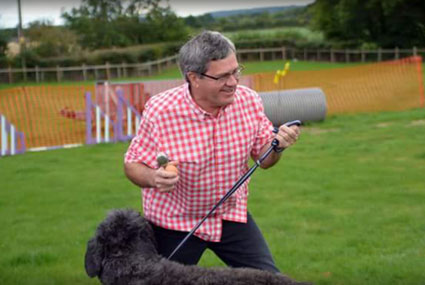 Helen Dallow and family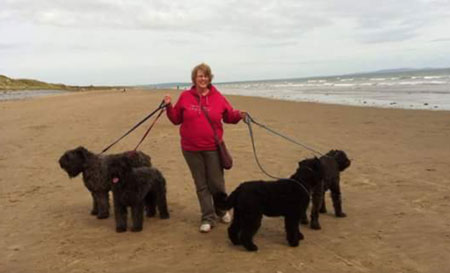 National Bouvier Des Flandres Club Rally 2015
3-Day Event
This year is starring our own Operatic Singer Margo and compere Mr Sammy Lloyd and
our resident band The Dirty Beards
Fun & Games for all your Doggy Friends
All monies raised will go to the Club Welfare & Air Ambulance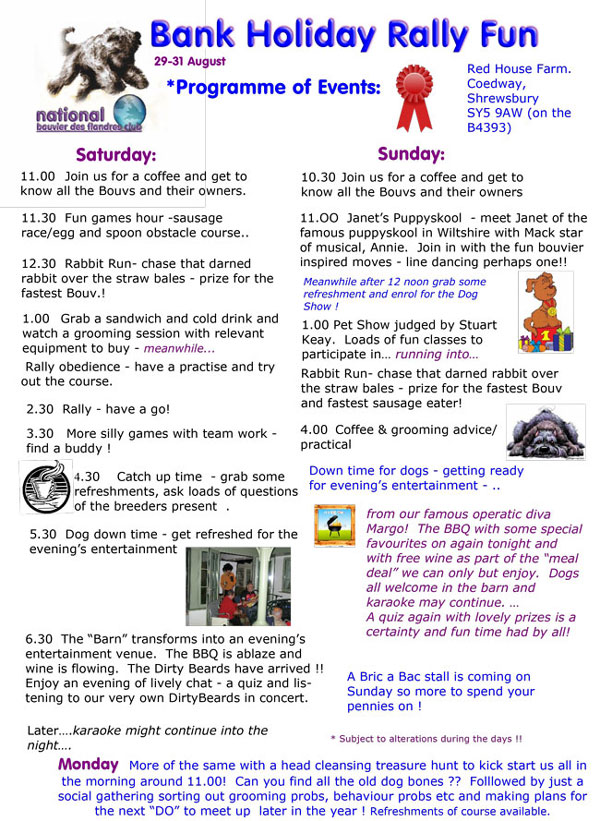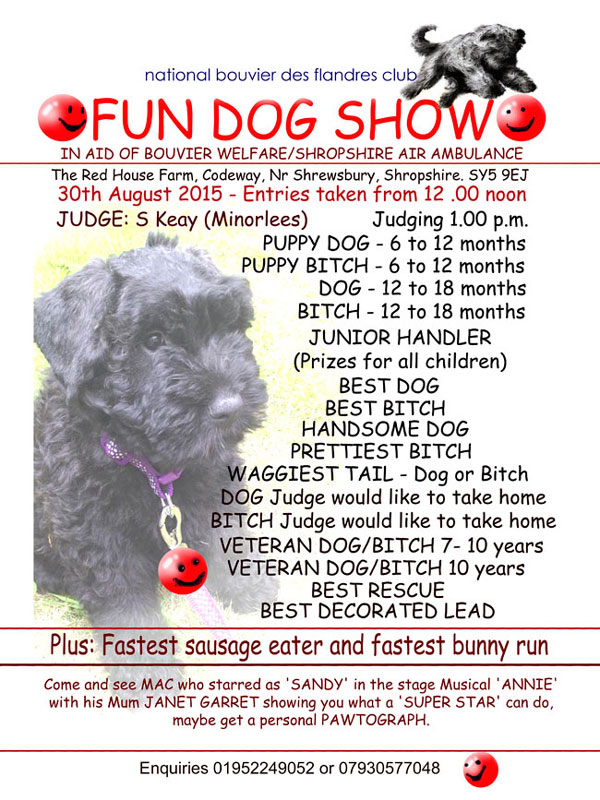 NORTH WEST DOG WALK May 2015

The National Bouvier Des Flandres Club are happy to announce that their first North West Walk will be held in the lovely village of Barley in Lancashire (Post Code BB12 9JX) on Sunday the 17th May
The aim of this get together is to raise funds for Bouvier Welfare so therefore any donations will be gratefully appreciated
no matter how small
We hope to make this an annual event so please come along and support this walk
August Bank Holiday Rally
Shropshire Peak District Gathering
Drop-In Day - Windsor