Forthcoming Events
ANNUAL GENERAL MEETING

Date: 19th May 2019
Venue: Hanley & Swan Village Hall, Worcestershire, WR8 0DA
Time: 1-30
Light refreshments will be available
Grooming advice & tips & after the AGM and a Dog Walk around the beautiful village weather permitting all dogs are welcome

Anyone that is not a Member yet or not renewed their membership can join on the Day or you can click on the membership button & join online - the price is only £10 for the family membership

Previous Events
Peak Walk is organised and waiting to meet you all!
The national bouvier club social calendar for the summer.
It is now summer!!!! Well by the calendar not the weather forecasts. We now look to the activities planned for this summer organised by your hard working committee.
22nd July sees Pat and Lyndon Evans throw their beautiful farm open to bouvier folks. Throstle Farm, Little Hayfield, SK22 2NG in the Peak district is the place and ring Geoff on 01254 260273 for more info.
Campers, tents and caravans/motorhomes welcome to stay before or after. Saturday night will have a get together around the firepit and sounds a very sociable affair with free drinks courtesy of Geoff Evans – good excuse to stay over. Local pub at bottom of lane too with rooms. Sunday is the fabulous walk around the area, taking in historical sites and areas of outstanding beauty.  Many local hostelries will be en route and it would be rude not to drop in for a bowl of water for the dogs!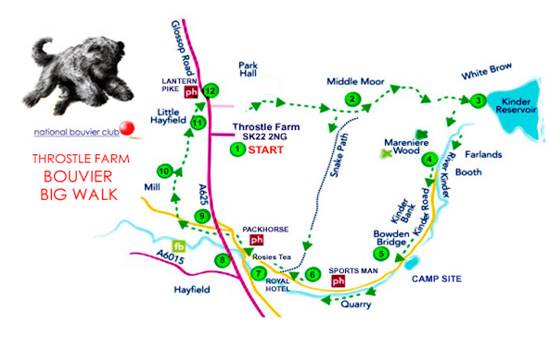 Fast forward to the August Bank holiday where the bouvier rabble will be congregating at Orchard Glen, Forest Green Rd, Holyport, Berks SL6 2NN (just 5 mins off junction 8/9 M4 and A404 leading to M40. M25/M4 junction 15 mins away.)
There is plenty caravan/tent space with electric if required (need long extension though)  Loos too for your convenience.
The Dog Kitchen Café will be running on the Sunday and Sat/Sun night we will be BBQ ing by the firepit all undercover if weather inclement.
Sunday is our main day of activities although there is a walking trail with "treasure hunt" access directly from venue, with clues you can attempt at your convenience, just handing in your answers for an end of day prize giving!
Sunday will be a fun packed day with all the usual activities – rabbit run competition, sausage race, Janet's Puppy Skool demo and have a go, agility enclosure, ( totally secure so you can let your dog off for a fun go at jumps, tunnels and see-saws.  Expert advice on hand too.), fun dog show followed by a Kennel Club Registered Show judged by Mr Chris Bexon.  The grooming workshop in the indoor parlour will be on-going at certain times of the day so we hope many of you who don't normally show will have a trim and have a go at showing.  Entry details coming up soon. Loads of lovely rosettes and prizes to be won.
We are hoping Carole's fabulous embroidery will be here with a stall for your retail therapy but if not in person then a few select items we hope to have for you to drool over. Geoff's bouvier memorabilia will be on display and doggy biscuits and liver cake will be on sale in the "Dog Kitchen Café" with hot drinks, cold drinks, hot snacks and cold snacks and ice lollies to purchase.
Memorabilia stall – Janet's Puppy Skool demo and venue in pics.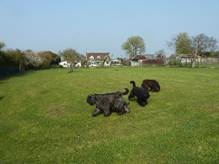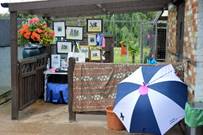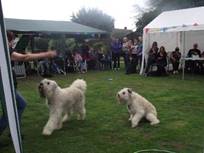 This year we have purchased an enormous marquee to ensure every event is comfortable and dry!

Hope to see many of you here 07973 253501. Timetable of events nearer the date - Fiona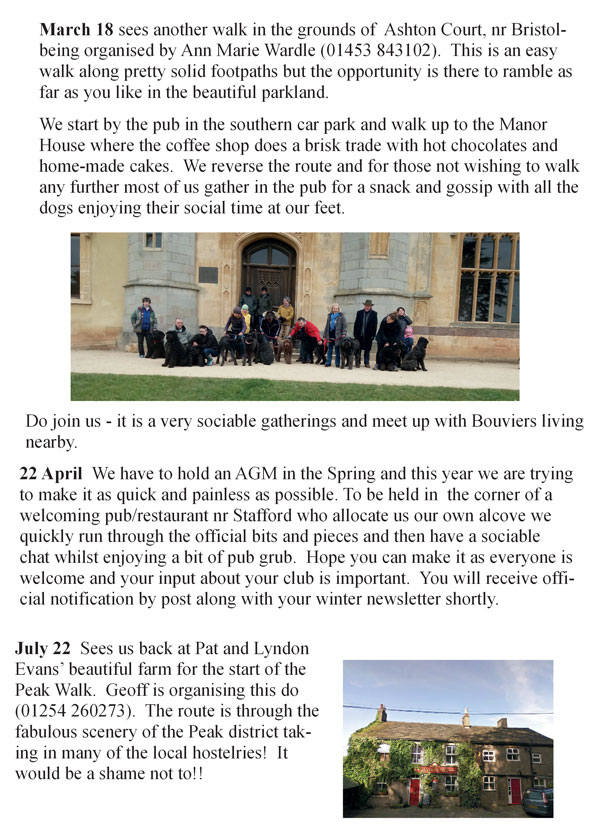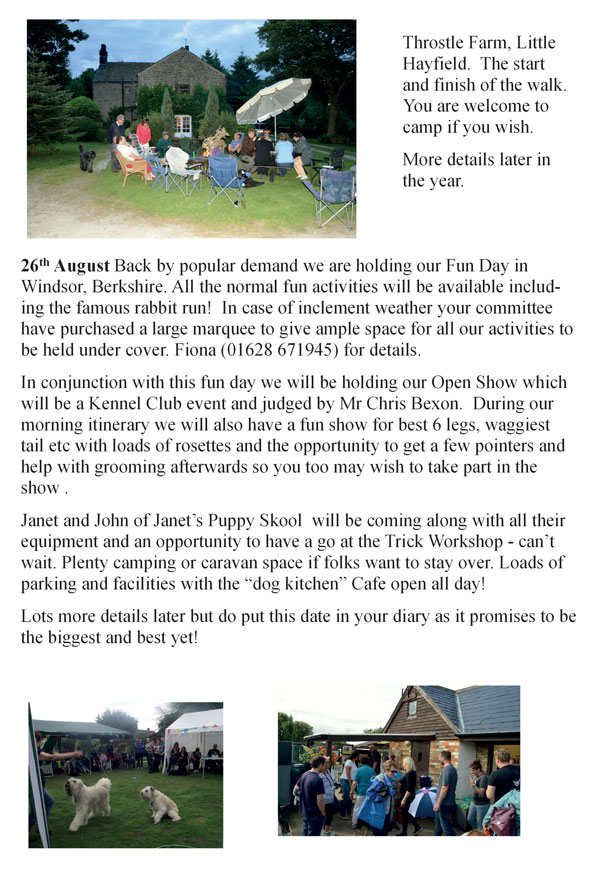 Open Show 2017

The Special classes judged by our own Steve Dallow (Achleit) followed by the Open Show judged by Marion Sargent (Tegwani)

Our events are very friendly affairs and we try to make the day fun for all attending so do enter for a chance of a big rosette for your dog to brag to his mates about or just come along to meet other bouvs.

We have Janet from Janet's Puppy Skool who is our Chairman, demonstrating with Mack some of the moves he learned to become not only a UK Tricks Champion but an American one too. Grooming help will be available, showing tools for the trade with web sites to buy if not available on the Bouvier Shop stand.

Peak District Fun Weekend aka The Peak Party!
July 29th & 30th
Throstle Farm, Little Hayfield, Peak District, SK22 2NG

We would like you to join us for this fun weekend with or without your dogs. Activities are on Saturday and Sunday and there are ample camping spaces for tents or caravans.  No electricity hook up though.  Local inns have B and B

On the Saturday starting around 10.00 am we welcome you all with coffee and set off for the Throstle Farm Bouvier Big Walk in the beautiful countryside. As you can see from map a few doggie friendly pubs included ...in case dogs are thirsty!!!.  On return we will have a Bouvie Bear Picnic for afternoon tea for a small charge.

In the evening we have a BYO BBQ where we can all sit around the fire pit and have a fun evening whilst our "chefs" prepare the food.  A doggy quiz will be attempted and I am sure Margo will enthrall us all with some songs from the musicals and operas.

Games like the famous Rabbit Run will be attempted by our dogs and the infamous sausage race where the humans have the work but the dogs get the rewards are scheduled for both days.

Sunday we are lucky enough to have Margo's obedience team visit, giving a demonstration and a chance to "have a go" This is followed by a fun show where the best six legs are competed for as well as other fun classes. Rosettes for all the winners and a trophy for the Best Dog on the day. 

Refreshments available.

If you can only make one day that is fine but to join us for both it would be our pleasure.
THE WALK……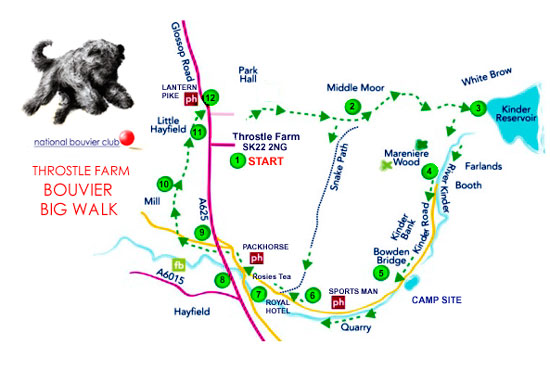 9th April at Corley Village Hall, Nr Coventry CV7 8AZ we are having our obligatory AGM followed by our Open Show – Open to All

All our breeders are coming to help you out, give a bit of tuition and encouragement and our judge Mick Taylor is looking forward to giving all our newcomers lots of encouragement and time to make your dog look his best and go home with a big rosette for the mantelpiece! Bragging rights at the local park too!
The A.G.M will take about an hour, starting about 11.00am then we have a lunch break with a chance to have a chat and meet the dogs, it is then the show which is a very friendly event and if you fancy having a go at showing your dog there are plenty of us more than willing to help or if you just want to come along and meet the dogs and get some advice that's great as well

To enter the show please contact Brian Everill for a schedule and entry form

Brian Everill, 9 Newark Road, Swinton, Greater Manchester, M27 8JS, 0161 7940925
You need to contact Brian by 10th March to say you are hoping to come. Do let him know even if you just want to come to watch because we need to know numbers for the famous Lancashire hot pies for lunch!!! Hope to see you all there. Fiona and her gang x
Open Show & AGM
Sunday 9th April 2017
Judge: Mr Mick Taylor (Bruernish)

The date/times and directions along with the xmas bumper newsletter was posted over xmas for you all. Please think of renewing your membership too.

August 2016 Bank Holiday Drop-In Day
The August Bank Holiday weekend was the new date for the National Bouvier Des Flandres Club of GB's Drop-In Day. The whole month of August had been glorious down here in the South East but when the day of the event drew nearer it was obvious it was going to rain! The venue was my place near Windsor, Berkshire.
Undeterred and with a bit of smugness due to the purchase of a few large marquees/party tents we just kept smiling through the morning showers and by lunchtime the sun was shining on us!
Helpers started arriving on Friday afternoon and were soon put to work getting the infrastructure in place (road signs etc) and were rewarded with "Tom's Kitchen" dinner party in the evening.
Saturday the hard work started and the prepping of food for the event began in earnest. 120 rounds of different filling sandwiches were made (thanks Helen and Marj for your assistance) and almost 300 strawberries dunked in melted chocolate (Marj has gone off chocolate and strawberries for a while now!). The groaning raffle table was set up and all the tables and chairs sourced from dark corners of the garaging and raids on neighbour's terraces whilst they were out ensued and were bedecked with cloths and fresh flower arrangements. The Rabbit Run was finally sorted into a proper championship course after many years of evolution!
It is extremely difficult to guess numbers for events such as these as many people intimate they are coming but it can depend on last minute changes of plan. We catered for in excess of 50 people and this number requires loads of seating, and catering resources.
Saturday night saw 17 of us (pre-event groupies) sitting under the Orangeries, feasting on Tom's BBQ and famous lemon meringue pies! Plans for the next morning were hatched and it was an early to bed for Marj and I as we had to prep the Great Duck Hunt early hours of Sunday morning which required a 2 mile hike over footpaths as soon as it was daylight, to hide the ducklings!
Sunday dawned and we were ready. Margaret Murray had made the trip, not only providing 3 glorious gateaux for the lunch plates but bringing her particularly great style to the Welcome Table. And welcome she did. We guesstimate we had 70 people here and at least 60 dogs, mostly bouvs but a few cousins as well.
This year we were delighted Carol Spalding Reagan and her lovely Bouvier embroidery items were showcased and many went home with Bouvier embroidered items as well as ordering her Christmas collection .(check out our web site for ordering details) Another big seller was the fabulous Bone and Paw Print Liver Cake made by one of my Dog Sitter's clients for us. That proved a great draw and the auction for that added again to the rescue pot. Geoff Evans had as usual set up our club's memorabilia stall which sold really well.
We were delighted to welcome Tony Crowther too who turned up with a bumper prize box donation and spent a few hours with us enjoying the ambience.
Janet Garrett, John and Sarah from Janet's Puppy Skool were here with all their equipment in their horse box to demonstrate and coach Bouvs to new levels of obedience and fun ( a supreme effort and many, many thanks), Sammy and Phil entertained over lunch with their Dirty Beard's renditions, Geoff Evans, Malcolm and I ran the games and Helen Dallow was in charge of the grooming over in the grooming parlour, with any problems visitor's had grooming their Bouvs.
The Great Duck Hunt was a huge success pairing off different parties to search together and most of the ducklings were found. A few folks fell "fowl" of the decoy, the Rooster, Rocky who was sleeping alongside some of the ducklings. Margo-Campbell Wilson's operatic voice finished off the lunch time
session with a wonderful rendition of "Summer Time" which my neighbours later remarked on, saying they came out into their gardens just to listen.
We had quite a few/loads of re-homed Bouvs and Andy Collins and his family attended giving his support to the typical English Afternoon Tea which was totally donated and prepared by us and all proceeds are to be evenly split between the National Rescue Fund and the Welfare and Rescue Group run by Andy and Associates. Talking cakes and other donations, gosh we were delighted with all the donations – thank you.
The last session of the day was the Pet Show and Michael Craig who handles my Hector had come along not only to lend a hand but to judge the show. We were delighted so many folks entered for the show and great laughter ensued during the Best Six Legs! It was a close contest with many a "Silly Walk" attempted! Best in Show was the lovely Laz who not only won Best Re-Homed dog but Best in Show. Michelle wow !!!
A super day/weekend was had by all and as the evening was still young, yet another BBQ for all the hard working committee and those who had chosen to overnight kicked off and the consensus of opinion then and now having looked at the revenue from the day says, a GREAT SUCCESS – THE BEST YET - Bring on Next Year!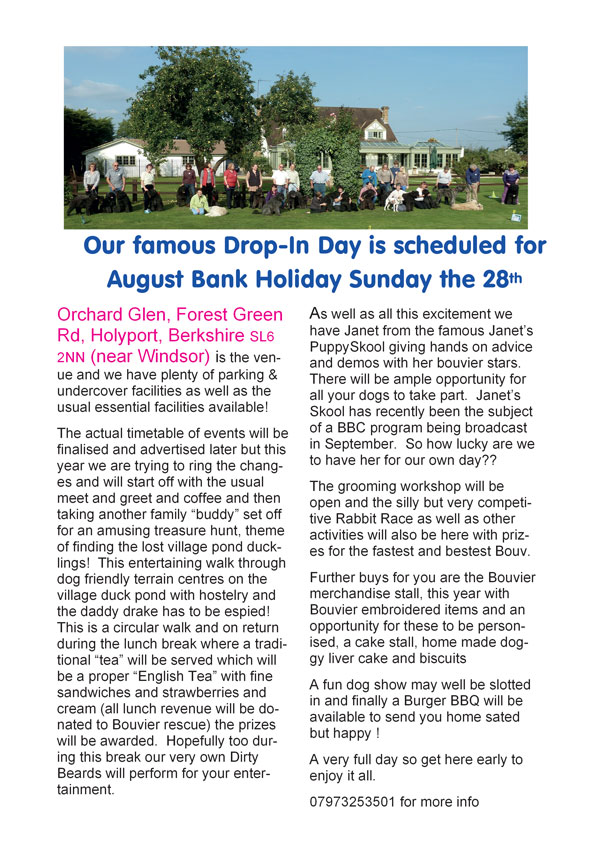 May Bank Holiday Rally Weekend 30th April / 1st May 2016
Red House Farm, Coedway, Shropshire, SY5 9AW
On the Saturday a fun filled day with games for you and your dogs, trieball agility, grooming hints and advice and our famous 'rabbit run' a definite favourite of the dogs
Early evening we will have a BBQ and for those camping a relaxed evening with music, quiz and great company...and a few drinks just to keep warm!!
On the Sunday we will have a Bouvier walk and perhaps lunch at the local pub which is highly recommended.

Southern Bouvier Walk
Date: Sunday 20th March 2016
Venue: Ashton Court Estate, Long Ashton, Bristol, BS419JN
Click HERE for a superb selection of photos from our wonderful Walk

National Bouvier Club AGM and Limit Show
Date: Sunday 10th April 2016
Venue: Corley Village Hall, Church Lane, Corley, Nr Coventry, CV7 8AZ
Please come along and join us even if you have never showed before or just come along and meet us for a nice friendly day
A lovely walk in the beautiful hills in Lancashire with an enticing dog friendly pub at the end for a spot of lunch and chat, Spring/Summer.
May Bank Holiday (1st one I believe) sees us back at David & Di's farm in the glorious Shropshire countryside & a joint venture with the Welfare & Rescue group to be held in Scotland or just back over the English border.

The Southern event will be in June or September near Windsor at my place. Date depends on the dryness or otherwise of the Spring as my parking paddock gets very wet.
A few snap shots for you to enjoy
Geoff Evans singing at the Bouvier Rally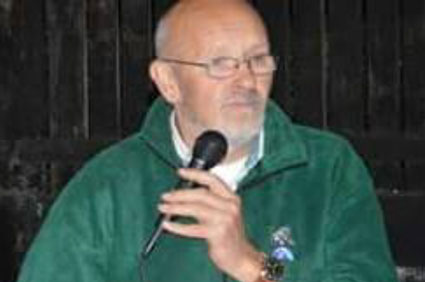 Steve Dallow having fun at the Rally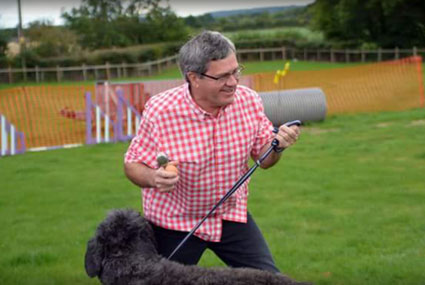 Helen Dallow and family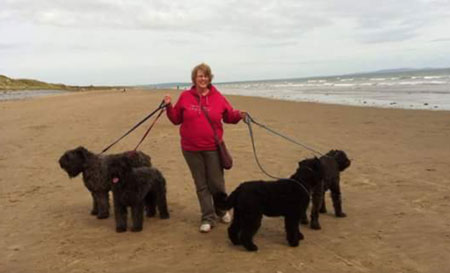 National Bouvier Des Flandres Club Rally 2015
3-Day Event
This year is starring our own Operatic Singer Margo and compere Mr Sammy Lloyd and
our resident band The Dirty Beards
Fun & Games for all your Doggy Friends
All monies raised will go to the Club Welfare & Air Ambulance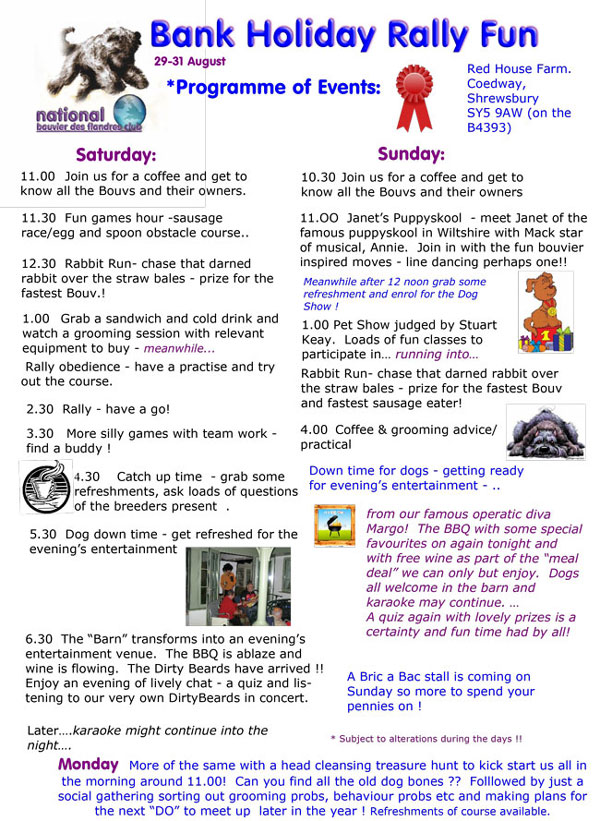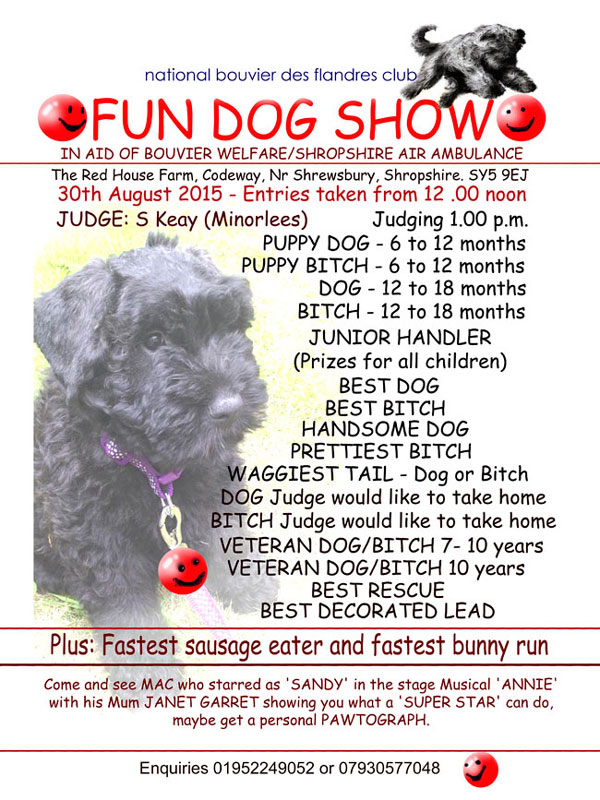 NORTH WEST DOG WALK May 2015

The National Bouvier Des Flandres Club are happy to announce that their first North West Walk will be held in the lovely village of Barley in Lancashire (Post Code BB12 9JX) on Sunday the 17th May
The aim of this get together is to raise funds for Bouvier Welfare so therefore any donations will be gratefully appreciated
no matter how small
We hope to make this an annual event so please come along and support this walk
August Bank Holiday Rally
Shropshire Peak District Gathering
Drop-In Day - Windsor